A new generation of consoles are upon us and with it brings a slew of new games to go with them. As with any new generation of consoles will will and have already been treated to the inevitable onslaught of sequels and spin offs of established game franchises.
In the two years that Xbox One and Playstation 4 have been in the market we have seen Call of Duty, Battlefield, Assassins Creed, Halo, Need for Speed, Fallout, Elder Scrolls, Killzone, Tomb Raider, Forza given fresh coats of paint and Next Gen tweaking.
I am not opposed to playing new iterations of some of my favourite games , its the new IP's that get most excited and while they are slowly trickling into the market we have to rely on our old favourites to quench our thirsts.
At this years E3 Microsoft dropped a MEGA TON bomb on the industry by announcing Backward Compatibility for the XBOX One; a feature that was supposedly " not feesible with the Xbox One hardware" when the system launched in 2013. The announcement was met with mixed reactions and a large majority simply didnt see why they would want to play last  gen games on their shiny new console. I on the other hand knew exactly why…..because I hadnt finished playing some of my old games and I didnt really want to go back to disc based games on a different console in my home. I wanted to use my Xbox One but I totally didnt mind playing older titles. One such series was Gears of War!
Gears of War has always had a special spot in my gaming heart. It was the first new IP that I experienced when I jumped back into commsole gaming with my Xbox 360. The setting and the overall presentation combined with spot on shooting mechanics grabbedme and never let go. I played and followed the series right through to its conclusion in 2011 with Gears of War 3 ( I never touched Judgement ). When Backward compaytibility was announced at E3 2015 I immediatley had visions of firing up the gears series on my Xbox One . Imagine my surprise when the Gears of War ultimate edition was announced at the same E3 and that it would include digital copies of the entire Gears of War saga to boot!
One of the great things about the Gears of War saga is that each game still holds up graphically and gameplay wise compared to current gen games ( Although playing Gears multiplayer in 60fps in the Ultimate Edition will be hard to give up). I am also very excited to share these games with some new XBOX One friends who didnt experience them when they first launched.
I have created a brief overview of the Gears of War saga for those players who may not have played them and are curious about what type of gaming experience they are in for if they jump in .
---
Gears of War
This was the game that started it all. This one will introduce you to the games cover mechanics and unique " Gears Gamplay" all the while taking you on a compelling romp through various locales on the planet Sera. The antagonists, The Locusts are introduced as well as the main cast of characters that will go on the entire series journey with you. Its a short but sweet campaign and one that absolutely MUST be played with a Co-Op partner.
---
Gears of War 2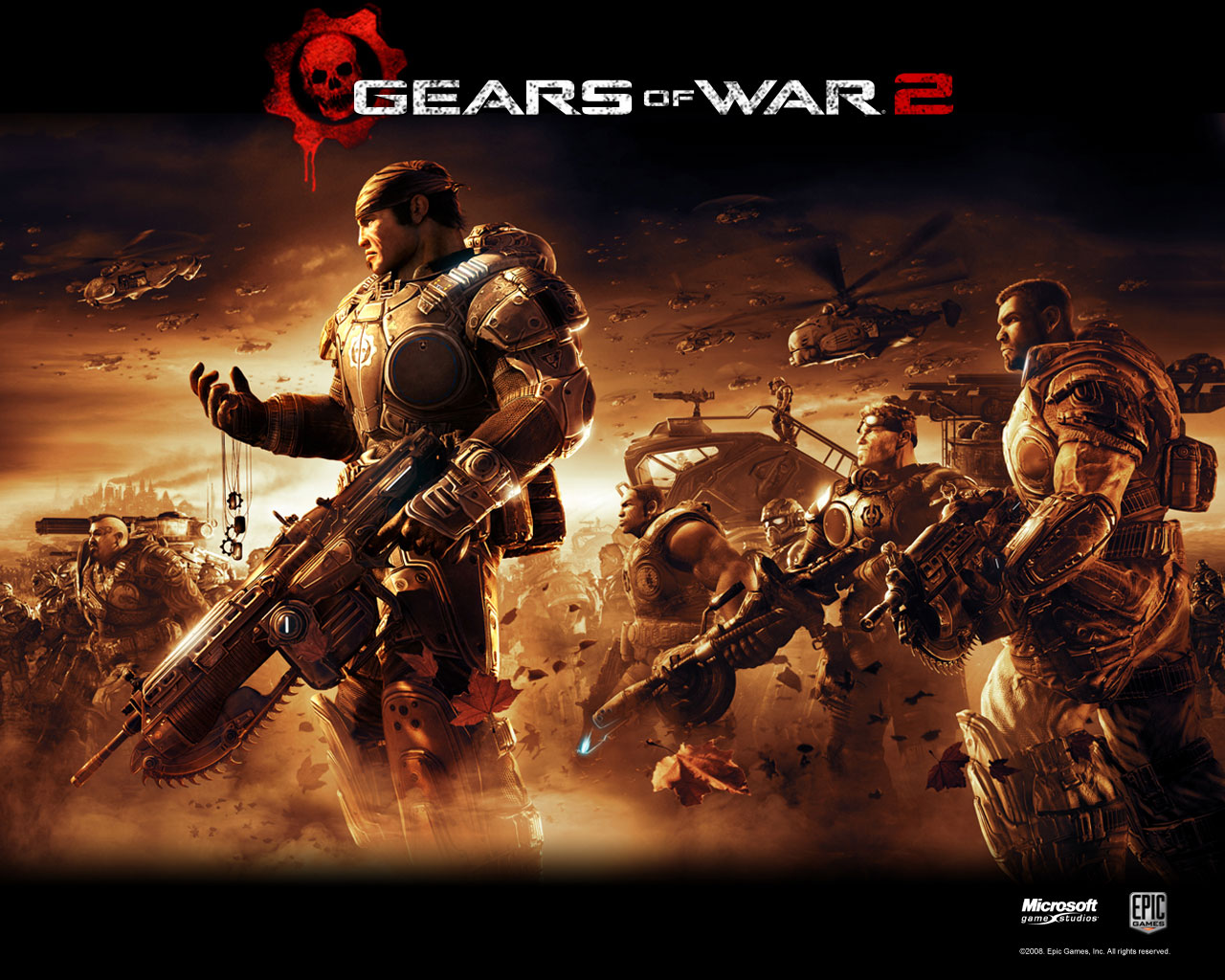 launching with the cathphrase " Bigger, Badder and more Bad Ass" Gears 2 delivered on that message and then some. Carrying on the story of Delta Squad and fleshing out the world around us while keeping the story intimate and personal ( who didnt  get goose bumps at least once??). Gears 2 also ushered in a new era of Co-Op for console gamers and a game mode that was copied by almost every developer who made a game in the following years. Horde mode was a wave based " survival mode" that was unheard of before Epic gave it to us. Team up with 4 friends and tackle waves of enemy AI with each subsequent round getting harder and harder was a stroe of genius that kept gamers coming back well after the campaign wrapped. Gears 2 is still considered to be the best in the series and brings back may memroies from this particular gamer.
---
Gears of War 3
Launching in 2011, Gears of War 3 promised to wrap up the saga and all the lingering plot threads would come to a conclusion. Thsi was no easy task but not only did Epic pull it off they also managed to improve the Gears tried ad true gamplay and give us a barn burner of a wrap up the series. Introducing new multiplayer mechanics and giving us a 4 player co op campaign this is the game that saw the most time spinning in my Xbox 360. The story grabbed you and didnt let go and I can telll you that one scene in particular brought the house down with a combination of sadness mixed with a true WTF?!?!? MOMENT. Gears 3 is an EPIC masterpeice and one that deserves to be played. If you liked Horde mode from part 2 then Horde 2.0 made you fall in love again. This title was the series high point but as we all know when you get to the top … the only way to go is down…
---
Gears of War: Judgement
Being a " non numbered" entry in the franchise was the first warninng signs that we where not getting a true follow up to part 3's greatness. Switching directions ( and developers) Epic studios gave us a prequel story that revolved around Lt. Baird and Cole Train from the main series. This story like part 3 allowed for 4 players to play in a co op campaign . Introducing some new mechanics and a completely off grid multiplayer experience that excited some fans and completley pissed others off. The story itself was wrth the price of admission but didnt really give us anything to chew on as far as our main characters. In the end the game delivered a Gears of War experience, just not the one we all had hoped would follow up Gears of War 3.
---
The Future
Gears of War has been officially announced for sometime in 2016 and all we have is an amazing E3 gameplay reveal. The future is bright for the franchise and I for one cant wait to see what the developers cook up for us.
NOTE: This article is a very high level summary of the series so far. There have been many behind the scenes details about the past ad future of the franchise that purposely didn't make it into the article ( I didnt want to write a novel for you guys)