EA Access keeps getting to be a better and better value for gamer's. The service launched last year and has been evolving since then. You will recall that this service was positioned to Sony back in its planning stages and was quickly debunked in favor of their PS Now subscription which they felt conflicted with that services offerings. This resulted in XBOX One getting the service exclusively and the gaming community embraced it.
EA Access is available for $4.99/month or $29.99 for the full year. Its currently offers a very sizable library to keep most gamers occiupoied and is not afraid to sprinkle in some really hi profile titles like Battlefield 4 and Titanfall. The laetst AAA title to make its way to the service is Dragon Age: Inquisition !
---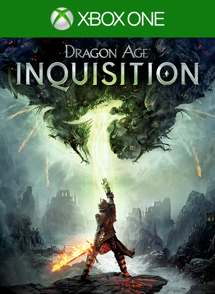 The time has come for a hero to rise and save Thedas from the threat of The Breach. To lead a team of legendary characters against an ancient evil, and bring order to the chaos. Assemble your party and go forth, Inquisitor. Dragon Age™: Inquisition is now in The Vault for all members!
BioWare's epic RPG adventure — and winner of more than 100 Game of the Year awards — is the 13th game to join The Vault, a growing collection of the best EA games on Xbox One that members can play as much as they want.
A cataclysmic event plunges the land of Thedas into turmoil. Dragons darken the sky, casting a shadow over lands on the brink of chaos. Mages break into all-out war against the oppressive templars. Nations rise against one another. It falls to you and your allies to restore order as you lead the Inquisition and hunt down the agents of chaos. BioWare's latest action-adventure delivers an unparalleled story set in a vast, changeable landscape. Explore hidden caves, defeat truly monumental creatures, and shape the world around you based on your unique play style.
Members can lead the Inquisition and play as much as they want starting today. This game joins Titanfall, FIFA 15, EA SPORTS™ UFC®, NHL®15, Battlefield 4™, Plants vs. Zombies™ Garden Warfare, NBA LIVE 15, Madden NFL 15, Need For Speed™ Rivals, FIFA 14, and Peggle™ 2 in a growing collection of the best EA games on Xbox One.
Of course, EA Access members get more benefits in addition to The Vault. Sign up now and play upcoming EA games before they're released for a limited time – in fact, trials of Madden NFL 16, NHL 16, and FIFA 16 are coming in the next few weeks alone. And the rest of the year? Just as packed with great stuff. Members also save 10% on all EA digital purchases on Xbox One, including full games, pre-orders, expansion packs, and everything in between. Not a member yet? What are you waiting for? Join EA Access today!
---
Play First. Play More. Play For Less.
Delve into EA's best Xbox One games and play a collection that will continue to evolve, so your fun can run and run.
Membership costs just $4.99 per month, or you can save even more—a full year is just $29.99.
Member benefits of EA Access
Get the games, get the deals, get the fun.
Play upcoming games before the release date, and keep your progress if you decide to purchase the game.
Play EA's best Xbox One games and top franchises, with more titles being added over time.
EA Access members can save 10% on all EA digital purchases on Xbox One.
Play first
Play upcoming EA games on Xbox One for a limited time before they're released.
The Vault's evolving collection
Play an instant library of games.
Why EA Access?
Play EA titles before launch on Xbox One
An exclusive "try before you buy" scenario. Be the first to download and explore new titles thanks to EA Access. Since you're playing the full game and not a demo version, your stats and saved progress will carry over if you decide to buy once the game is publicly available.
10% off all EA digital purchases
Expand your collection without breaking the bank by visiting the Xbox One Games Store and checking out your exclusive EA Access discounts. Digital pre-orders, full game downloads, Season Passes, and DLC all come with a 10% reduction.